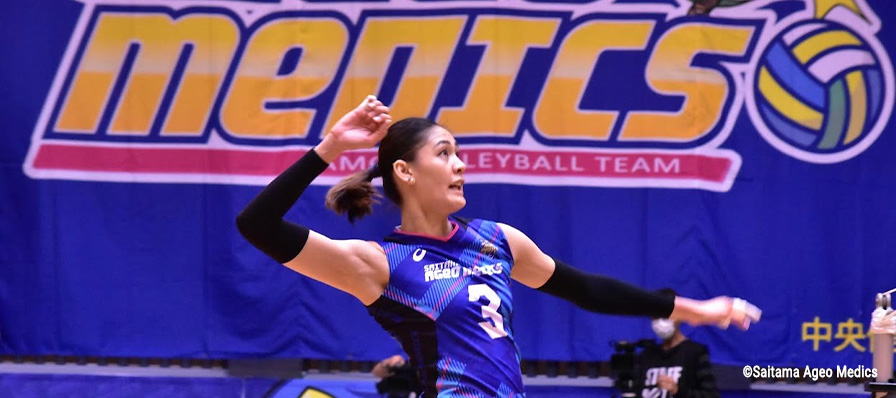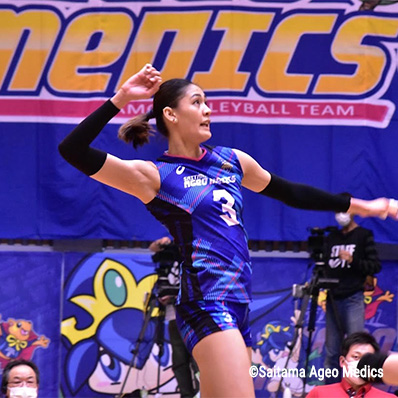 Move to the Global Stage as Professional Volleyball Player
Interview with Jaja Santiago
Playing in V. League (Japan's Professional Volleyball League)
Middle Blocker
Saitama Ageo Medics
Q: I guess a lot of people are interested to know how your volleyball journey started, so I would like to ask when did you start playing volleyball? Also can you tell us if you enjoyed any other sports?
A: I started playing when I was 13 years old. My older sister introduced me to her head coach in her university, because they were recruiting new players at that time. Their coach asked them to bring some friends or relatives who were also playing volleyball and were similar to themselves in things like height, athletic ability or skills.
Aside from volleyball, I didn't try any sports. When I was a kid I didn't even think that I would play any sports. Actually, I preferred to study more.
Q: I thought that your father influenced your decision to also be involved in sports since he was a professional basketball player?
A: Actually all my siblings play sports. My brother played basketball and volleyball, and my two sisters were volleyball players too, but I didn't really expect that I'll be this kind of volleyball player who is very passionate.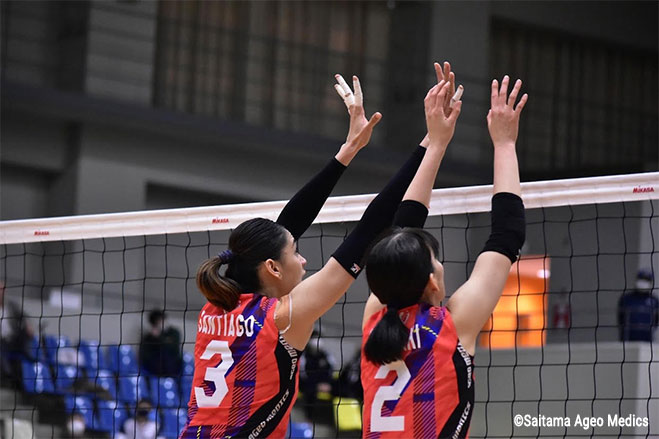 Q: Through the years you have received so many awards and accolades. So until now, what do you think is the most meaningful award that you've ever received?
A: I think it is the best blocker award in Japan, because it is the first international award for Filipina volleyball players. And also a lot of players in the Philippines are looking forward to playing here in Japan. Among all the Filipina volleyball players I am the only one who was given the chance to play here in Japan, and I got the best middle blocker award.
Q: By the way, how many years have you played in Japan? Also maybe a lot of people are very curious, what made you decide to join Japan's volleyball team?
A: I've been playing here in Japan for 5 years now. Actually, when I was in high school, before getting into college, I had an offer from UCLA in America. However I declined it because I was still young and I did not know what to expect, and I thought I would have a hard time there without my family. But I regret it because I think if I grabbed that opportunity I might become a different type of player. I continued playing at the college in the Philippines, then I had another offer from Thailand, but declined it again because it was in the middle of a season of college league. So, I missed a lot of opportunities.
When I graduated college, this offer came from Japan and I told myself that this was the last change and a once in a lifetime opportunity, so I grabbed it.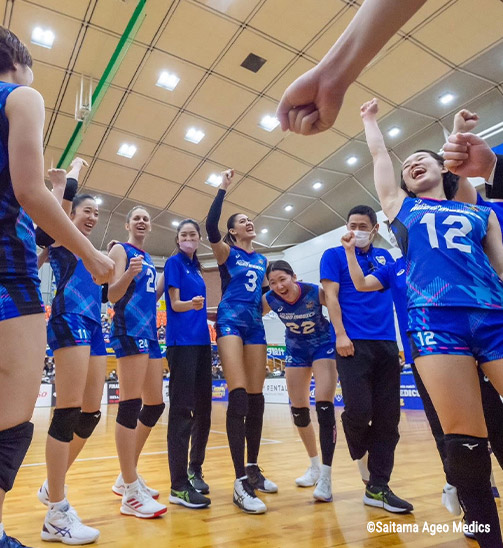 Q: When you first came to Japan as a professional player, what were the difficulties you encountered? I'm sure it's different compared to being a tourist in Japan.
A: The first is really the language, the communication. I had zero knowledge of the Japanese language so that was the hardest part for me. But somehow my translator made it a little better during that time.
The second, I think, is the lifestyle that they have. Culture-wise, I really admire Japanese culture, so I did not have a hard time with that.
When it comes to playing volleyball, I really had difficulty with it. They are not really tall but they move fast, and they're really smart. For example, they are limited when it comes to height, so they use their hands wisely.
Q: You mentioned that initially you communicated with your teammates through a translator, so do you think it is necessary to learn Japanese if someone becomes a professional player in Japan?
A: I think yes. For me, it's a must. Especially playing in a team sport, communication is the key for the success of the team as well as the player. If I don't study the language, I think I'm gonna have a hard time communicating with my teammates, especially inside the court.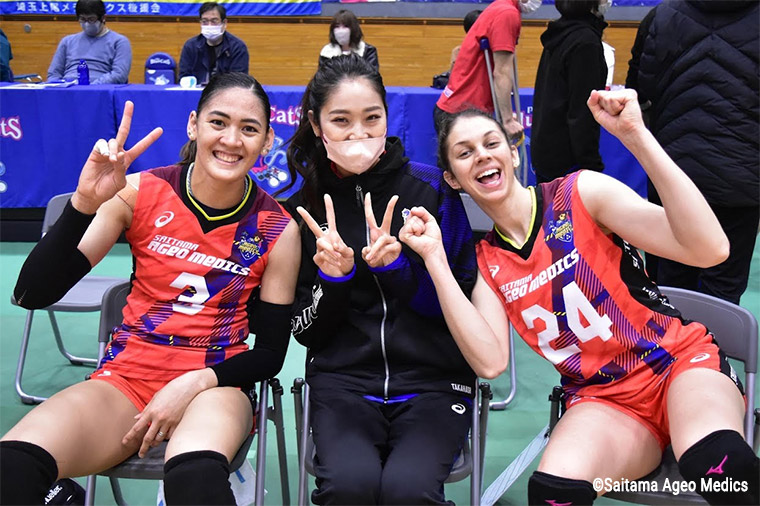 Q: Knowing this, speaking of Japanese, when did you start learning Japanese?
A: Actually when I came here in Japan, all I knew was "Arigatou gozaimasu" "Ohayou gozaimasu" and "Konnichiwa". I have had experience playing here in Japan before, because the national team in the Philippines usually has a training camp in Osaka. But, learning the language started two or three years ago. But it wasn't really focused on books or anything. So It was just casual learning. When I started needing to change my nationality, that was when I started to focus on studying Nihongo with JLRC.
Q: How did you learn about JLRC?
A: I have a friend who enrolled in JLRC's offered Nihongo courses. My friend made a post that they were starting to learn Japanese, so I asked them "Where did you enroll? Is that a school?" and they told me "No, it's online". So I asked them to send me the details so that I can also enroll. That's the start.
Q: That is the official start of your Japanese journey. How do you find your study with us, with JLRC?
A: Actually, with JLRC I find it very convenient and helpful. Aside from just staying at home and learning online, I was able to meet competent teachers like Emmie-sensei and Janice-sensei, they helped make the lessons easier to learn.
The best thing about the teachers of JLRC is that they're very flexible and they don't force you, but they adjust to your capabilities. Especially for me with a busy schedule, it's super comfortable and I am not pressured at all.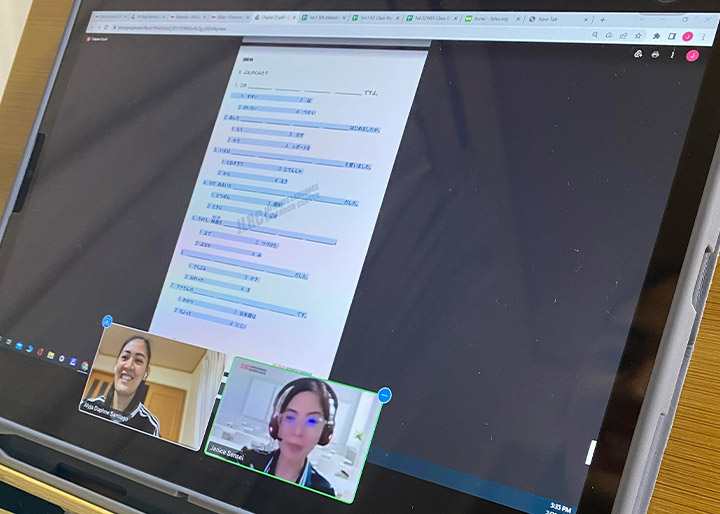 Q: You mentioned the schedule. How do you practice Japanese, how do you insert Japanese study time?
A: Usually I practice Japanese with my teammates. They also help me, and teach me some words or how to make sentences. My husband also helps.
Before, when I would ride the taxi, I would always stay quiet when the driver tried to speak to me. Now when the taxi driver asks me some questions, I can easily answer.
Q: In your study, which aspect of the Japanese language do you think is the most challenging?
A: I think the first is Kanji. I think this is common for most Nihongo learners.Second is grammar. For example, in English, let's say counting. We only have 1,2,3,4,5 for all objects, but in Japanese they have different ways to count things, animals, machines, etc. It's a little complicated for me.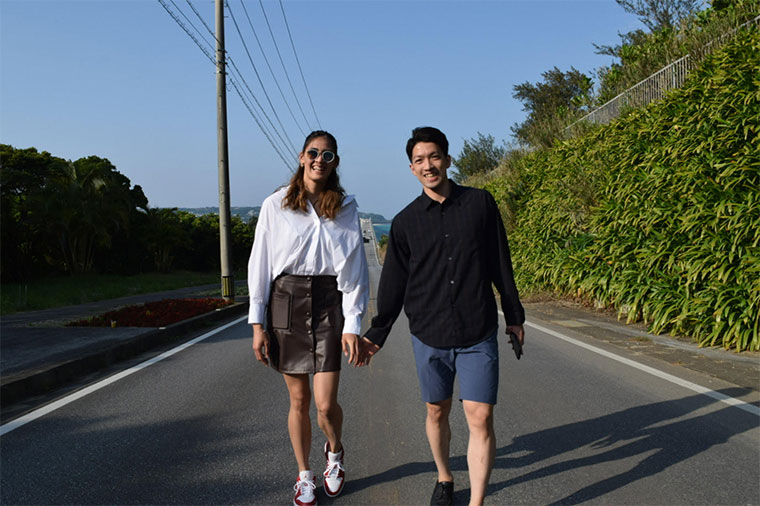 Q: What has changed since you started studying with JLRC? Did your increased knowledge in Nihongo make an impact in your daily life?
A: Actually, it has made a really big impact that I learned Japanese. I already understand most of the conversation that my teammates make. Our team also has another foreign player. Sometimes inside the court, in the huddle my teammates usually speak in Japanese, so what I understand, I translate it to her.
Q: So you became the translator inside the court?
A: When we have a huddle outside the court, there is a translator, but inside the court the translator cannot join anymore. It is a big help for you to learn their language because sometimes there are important things that you need to know. Sometimes you miss out on those things if you don't understand. Aside from that, making connections with the players and making friends with the other people, the conversation is really so much easier now.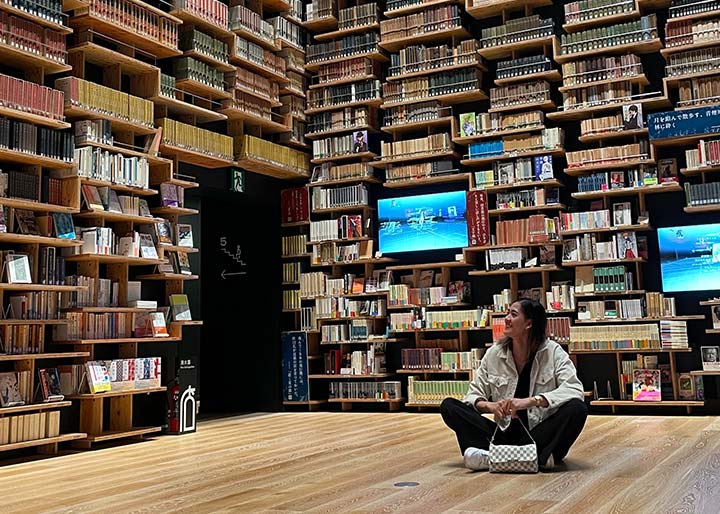 Q: At the moment, what do you think is your ultimate goal in your Japanese study?
A: To be fluent. I hope I can get to N1 level. It's really high for me, but despite the busy schedule I think I can do it if I really focus.
Q: What about your ultimate goal as a professional player?
A: My ultimate goal is to play in the Olympic games. And to inspire volleyball players, not just in the Philippines but all over the world.
Q: Can you give a message for those who are interested or study Japanese language, and also want to challenge themselves not only in Japan, but also on the global stage?
A: My message to all the people who want to learn language, especially Japanese, is that everything is really possible as long as you do it with passion and determination. You can learn Japanese if you really put yourself into it. It's not hard to learn the language, it is just hard work, like managing your time and like I said putting yourself into it.
JLRC will really help you to learn Japanese in the easiest way. They will not give you pressure, they will push you to your limit but you will not feel the pressure to learn immediately. They will adjust, they are flexible. You trust JLRC because they will help you a lot.
Learning a new language is nothing to be scared of, and it is something you will be able to make use of. Let's say you go on a vacation to Japan, you will be able to use it in travel and communicating at restaurants and train stations, etc. Your vacation will become convenient and fun.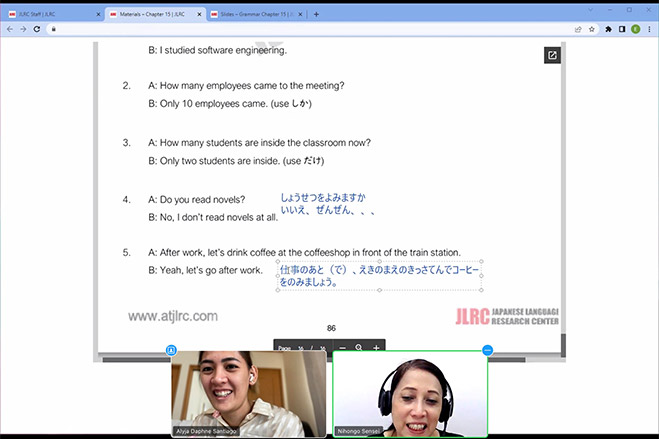 Q: I'm sure a lot of people, and a lot of the youth will be inspired to follow your path. Thank you very much for joining this interview, and good luck with your Japanese studies.
A: Thank you also for inviting me and giving me the chance to show the Filipinos, or not only the Filipinos that we have a lot of talents, and a lot of talented players that can play in Japan and other countries.
At the same time I would like to thank JLRC for giving me the chance to study Japanese in a convenient way. I feel really grateful to be a part of the JLRC family. I hope to deepen my knowledge in the Japanese language and I am really happy to work with JLRC!