Live & Interactive Japanese Language Course
Study Nihongo with Real Professionals
JLRC Online Japanese Offered Courses
Tuesday, Thursday & Friday
Tuesday, Thursday & Friday
Start Today System
*Join as early as today
Start Today System
*Join as early as today
Start Today System
*Join as early as today
1-on-1 Tutorials Schedule
*N5 Class and all tutorial lessons are suited for Beginners / Basic Learners with zero background in Japanese language. Beginners are welcome!
*Now offering FREE shipping of JLRC original materials/books upon enrollment in our JLPT N5 online course. (within the Philippines)
*To provide you with the best Japanese language learning experience, the number of students per class is limited. (First come, first served)
*Target age / eligibility for all the JLPT courses is 16 years old and above. If you are under 16 years old, please choose 1-on-1 Private Tutorial – JLRC Kids.
*Certificate of Completion will be given to students who will complete the requirements of the Japanese language course.
Observe and evaluate us on your first day of Japanese language class. If you are not satisfied with our methods, just tell us until before start of the second Nihongo lesson and we will give your money back 100%. No questions asked.
We take pride in our constant excellent passing rate in JLPT. Reach your goals of passing the JLPT without worries! In case you cannot pass the JLPT N5 or N4 exam, you can retake the Japanese Language class for FREE (Provided attendance is over 90%, valid for one year from the date of the last session).

JLPT measures the level of ability for those learners of Nihongo (Japanese language). Under the joint organization of the Japan Foundation and Japan Educational Exchanges and Services, JLPT has become most recognized among Japanese language tests in the world, and serves as proof of Japanese language proficiency and recognized by Japanese companies and educational institutions in Japan and all over the world.
There are currently five Nihongo levels with N5 being the easiest and N1 being the most difficult. JLPT is conducted twice a year in July and December. More details: JLPT
Our JLPT online classes are inclusive of JLRC Original Nihongo materials and mock exams.

N5 is the most basic level of the JLPT. N5 is the perfect Nihongo course for any beginners who want to study the fundamentals of Japanese language. They will be able to read and write Hiragana, Katakana and a set of N5-level Kanji. They would be able to recognize some words and understand simple Japanese language conversation encountered in daily life situations.
Course includes: Intensive Japanese 1 & 2, Hiragana/Katakana Workbook, N5 Kanji Workbook and Mock Exams
N4 is the continuation of N5 level. This is our recommendation for those who have the knowledge of basic Japanese language and desires to understand advanced sentence patterns. Additional set of Kanji will also be studied. They would be able to recognize more words and comprehend Japanese language conversations and be capable of following its contents.
Course includes: Intensive Japanese 3 & 4, N4 Kanji Workbook and Mock Exams
N3 is the intermediate level of the JLPT. Aside from advanced grammar patterns, their Nihongo reading and listening ability would be put into emphasis. There will also be a dedicated textbook for Vocabulary in addition to a set of advanced Kanji. They would be able to understand Japanese language used in everyday situations to a certain degree.
Course includes: N3 Vocabulary, Grammar and Reading Textbooks, N3 Kanji Workbook and Mock Exams
N2 is the benchmark for individuals who wish to advance further into using their Japanese language in their careers. Advanced set of Kanji and Vocabulary is needed to understand the Nihongo passages. They would be able to understand a variety of topics, articles, and news in Japanese language as well as simple critiques, and point the intention of the author.
Course includes: N2 Vocabulary, Grammar and Reading Textbooks, N2 Kanji Workbook and Mock Exams
TUTORIAL - Intensive Oral with Writing
INTENSIVE ORAL with WRITING course is designed for beginners who wish to learn the basics of the Japanese language in a shorter time frame with emphasis in practical communication. It simplifies Japanese grammatical patterns for easy comprehension and application. The course also includes the Hiragana / Katakana writings. This is best suited for those who plan to travel to Japan, need basic oral Nihongo communication with their Japanese counterparts and wish to understand the culture of Japanese language basic writing.
TUTORIAL - JLPT N5 Course
Due to public demand, JLPT N5 tutorials are now available in addition to the JLPT group courses. The advantage of this private tutorial course is the pacing of the class and the lessons will depend on your ability and speed. So you can actually learn JLPT N5 contents at a faster or slower pace than other JLPT group classes. This course is recommended for those who wish to learn JLPT courses privately at their own pace or have a customized schedule based on their availability.
*Materials are customized and adjusted depending on the kid's age and lesson progress.
JLRC Kids Nihongo course is designed for kids / young learners who wish to have a fun Japanese language learning experience. It is recommended for kids aged 6 to 15 years old. Each Nihongo tutorial lesson is uniquely customized according to the kid's age and is adjusted according to the individual lesson progress. This Japanese language course will cover both oral and written communication skills.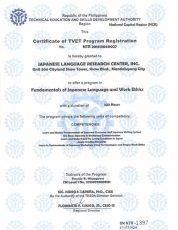 FUNDAMENTALS OF JAPANESE LANGUAGE AND WORK ETHICS is designed for those who wish to work in Japan as a skilled laborer including factory workers, construction workers, engineers and caregivers. This Nihongo course has been registered with the Technical Education and Skills Development Authority (TESDA) since 2015. It includes JLPT N5 and N4 level Japanese language training.
Course includes: Intensive Japanese 1, 2, 3 & 4, Hiragana/Katakana Workbook, N5 and N4 Kanji Workbook and Mock Exams (Free shipping within the Philippine)
Duration: 320 hours (Minimum required duration set by TESDA)
JLRC offers special Japanese language classes for company accounts. We customize the syllabus and materials specifically to suit the needs of each client. This flexibility is one of our strengths that we have gained through 20 years of Nihongo teaching experience in our in-house and corporate Japanese language classes as well as Nihongo tutorial lessons. Please contact us for any corporate class requests.
JLRC also offers Japanese language translation services for various documents. Rates are depending on the complexity and volume of source materials. Please contact us for any translation requests.
Certificate of Completion
All students who will complete the requirements of our Japanese language course (attendance, achieve passing marks in the quizzes and mock exams) are eligible to receive this certificate. JLRC's certificate is well recognized by most organizations, institutions, BPO service providers and Japanese companies in the Philippines. It is also recognized by most Japanese language educational institutions / schools and companies in Japan.