JLRC Acquires TESDA Online Training School Certification! (Facilitate eLearning Sessions)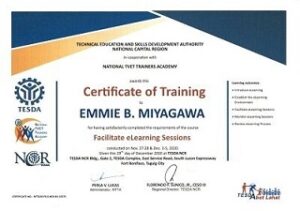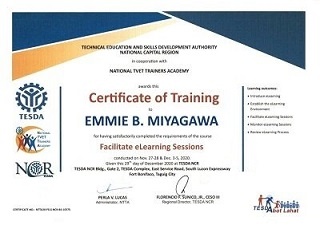 Last November 27 to 28 and December 3 to 5 2020, Technical Education and Skills Development Authority (TESDA) in cooperation with National TVET Trainers Academy (NTTA) conducted an online training course entitled "Facilitate eLearning Sessions".
Representing JLRC, Emmie Miyagawa, the Head Instructor, underwent this intensive and rigorous online training course.
During this online training, she was able to master the different skills in eLearning, like introducing eLearning; establishing the eLearning environment; facilitating eLearning sessions, monitoring eLearning, and reviewing the eLearning process. All these skills will be integrated into our school's Japanese Language curriculum as we are continuously working to increase the quality of our JLRC Online Japanese services.