JLRC's Original N4 Materials Revised for Online Japanese Learning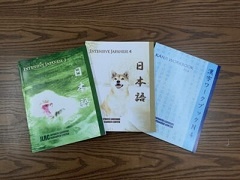 JLRC has been developing original Nihongo materials that match our unique teaching method and supported by our database that has undergone years of continuous Japanese language research. Our materials are in line with our school's motto of "Less Time, Less Cost and Less Effort" in learning Japanese language. We conduct constant revisions to maintain best quality and adapt to the current trends in Japanese Language Education.
In line with the above, we are currently revising and updating our N4 books (Intensive Japanese 3 and Intensive Japanese 4) to better suit the needs of our school's Nihongo learners.
Intensive Japanese 3's revised edition, was published last March 24, 2021 and distributed to our enrolled N4 online Nihongo class students worldwide. For Intensive Japanese 4, it is still under careful revision and it will be ready for publication by mid-April, 2021. These new books will be used in our upcoming Japanese language N4 online classes.