JLRC Held Its Instructors' Nihongo Training for Intensive Oral Courses / 1 on 1 Tutorial Lessons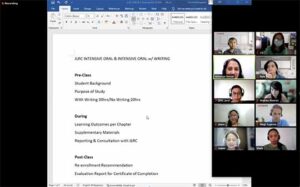 In light of JLRC's commitment to ensure the best school / best class experience for Japanese language learners, JLRC conducted an Instructors' Nihongo Training for 1-on-1 Lessons / Small Group Intensive Oral Tutorial Classes between the JLRC's Head Instructor, Emmie Miyagawa and some of its selected teachers last October 19, 2021.
This Japanese language training is one of the requirements for JLRC instructors to teach tutorial lessons/ classes as these Nihongo courses need a different teaching strategy compared to the usual JLPT group classes.
The Head Instructor Emmie-sensei and some instructors shared their own experiences and problems encountered in teaching Intensive Oral classes. The training atmosphere was lively and the instructors were very enthusiastic in interacting with their colleagues. 
Through this Instructors' Nihongo training, participants were able to learn the various teaching techniques on how to better handle the lessons in line with the background and requirements of the learners. This is indeed a great opportunity for the instructors to improve their craft and better handle their respective classes for the benefit of all the JLRC's Nihongo learners.