JLRC donates school equipment to Daraga National High School, Bicol Region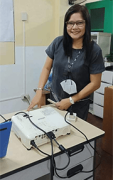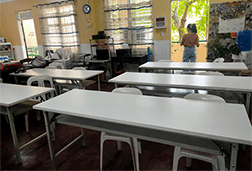 JLRC made another donation to a new beneficiary as part of the "Donation Drive" of surplus JLRC equipment and Japanese teaching materials. In February 2021, the initial donation of school chairs were made to Buklod Tao in San Mateo, Rizal while the Japanese textbooks were distributed to various Japanese Language Teachers based in Metro Manila.
In January 2022, the new beneficiary is Daraga National High School (DNHS). DNHS is a public secondary school located in Daraga, Albay that is accredited by the Department of Education (DepEd). The huge desks (8), school chairs (24), projector (1) and white boards (3) which were used in JLRC's Nihongo classes, made the long journey to the Bicol region. The 13-hour arduous trip for the preloved furniture and equipment was nostalgic for all the JLRC staff as we reminisced about our face to face Japanese classes. The DNHS Guidance Counselor's Office used the donation to establish a training room for teachers and students.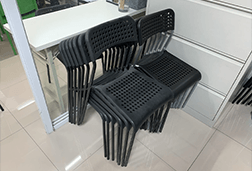 It is heartwarming to know that JLRC's preloved furniture and teaching equipment are being put to good use. Special thanks to our Nihongo part-time instructor Ms. Maria Isabel Madrideo-Listana (DNHS Batch '99) and Ms. Edna Barrameda (DNHS Representative) for facilitating the donation transfer.